Should I Invest in a Residential or Commercial Cleaning Business? 
Residential or Commercial Cleaning?
As an entrepreneur exploring business opportunities, you may be considering opening a residential or commercial cleaning franchise. While both options have their pros and cons, commercial cleaning services offer unique advantages over residential cleaning services. Specifically, commercial kitchen exhaust cleaning is a lucrative niche growing in demand. Let's compare residential and commercial cleaning services, and you'll see why commercial cleaning, specifically with the HOODZ franchise, is a great business opportunity for potential franchise owners.
Residential cleaning services are targeted towards homeowners or renters who want to maintain a clean living environment. Services may include vacuuming, dusting, mopping, and deep cleaning services like window washing or carpet cleaning. Residential cleaning franchises often focus on recurring but smaller scale cleanings.
On the other hand, commercial cleaning services are targeted towards businesses that need to maintain a clean and safe work environment, not only for their employees and customers, but also to remain compliant with regulations and health and safety codes. Services may include general janitorial services like sweeping and mopping, but also specialized services like commercial kitchen exhaust cleaning. Commercial cleaning franchises often focus on daily, weekly, or monthly recurring cleanings on a much bigger scale.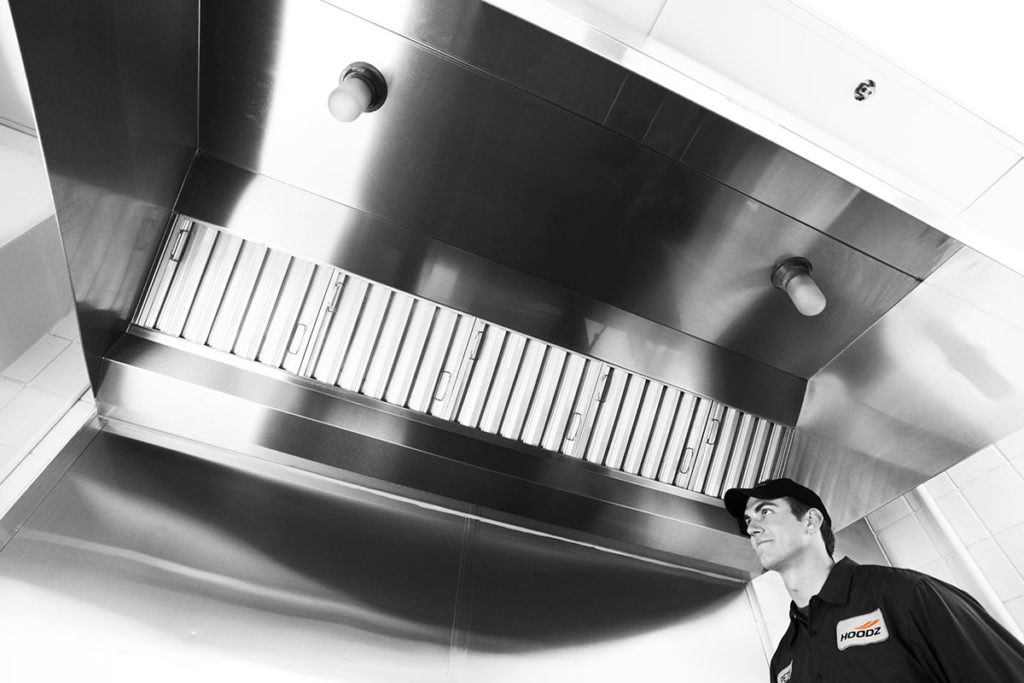 Why a Commercial Cleaning Business
While there is a market for both residential and commercial cleaning services, commercial cleaning offers unique advantages that make it a more attractive business opportunity. Here are a few reasons why:
Higher Revenue Potential – Commercial cleaning services typically command higher rates than residential cleaning services due to the scale and complexity of the work. A commercial kitchen exhaust cleaning job can be worth close to a thousand dollars, while a residential deep cleaning may only be worth a few hundred dollars.
Repeat Business – Commercial kitchen cleaning services often have recurring contracts with clients, providing a steady stream of income for franchise owners. Residential cleaning services may have recurring contracts, but are often one-time or occasional services.
Lower Seasonality – While residential cleaning services may experience fluctuations in demand based on the season, commercial kitchen cleaning services tend to have more consistent demand year-round.
HOODZ offers a wide range of compliance-based services that generate multiple recurring revenue streams for franchise owners. And thanks to the trust we have built by providing excellent results and customer service, our clients turn to HOODZ for the consistency and thoroughness we are committed to delivering.
Start a Commercial Kitchen Cleaning Business with HOODZ
HOODZ is a leading franchise system for commercial kitchen exhaust cleaning and preventive maintenance. For entrepreneurs looking to own a business that is both profitable and has a tangible impact on the communities you operate in, HOODZ is a great business opportunity. While cleaning kitchen exhausts is the cornerstone of our services, we also offer additional services like pressure washing, duct cleaning, filter replacement, clearing up grease traps, and much more, all of which provide increased revenue for franchisees.
The commercial kitchen exhaust cleaning industry is niche and specialized, but it is also growing in demand due to increased regulations and awareness of fire safety in commercial kitchens. Commercial kitchens need our services, and they need them done properly in order to avoid fires and other workplace incidents. Thanks to our proven business model, HOODZ franchise owners and technicians go through extensive training, so they are equipped with the knowledge and skills they need to provide the expert results HOODZ is known for.
Brand recognition is a huge competitive advantage when considering a franchise business. HOODZ is well-known throughout the commercial cleaning industry, with over 125 territories operating today. Our state-of-the-art equipment and cleaning solutions ensure the highest level of quality and efficiency in our services. We also place a huge emphasis on professionalism and customer service, which sets HOODZ apart from our competitors.
The BELFOR Franchise GRoup Advantage
HOODZ is part of the BELFOR Franchise Group, a global leader in service, cleaning, maintenance, and restoration franchises. The BELFOR Franchise Group includes a vast network of industry experts, providing franchisees with access to a vast pool of knowledge and resources. Our franchise businesses are designed to be turnkey, so that, by the time you finish the onboarding process, you'll be ready to start operating right away. In addition to comprehensive training for all franchisees, we also provide unparalleled ongoing support. No matter what challenges you may come across in your day-to-day, our support team is there to help you find the best solution possible.
Learn More about HOODZ Franchise
For more information on what makes HOODZ such a great franchise opportunity, check out our research pages here and decide if a commercial cleaning business would be a good fit for your entrepreneurial goals.
When you are ready for the next step, fill out our inquiry form here. Once you have submitted it, a member of our team will be in contact with you to start the conversation. We look forward to learning more about you!